Volunteer in Canada
There are currently no openings for short-term projects in Canada. New volunteer projects will be announced here when available. To get an idea of what kind of programs are expected, you can check some of the past projects below.
Summer day camp program for children with autism
Comox Valley, British Columbia
Volunteer project: The international volunteers will help provide social and recreational summer day camp program for children with Autism Spectrum Disorder (ASD) in the Comox Valley. The children, ages 10-15 years, are quite high functioning in certain areas, but often struggle with social skills and the mastery of appropriate communication and behaviour. The project will include one week intensive training of the volunteers followed by the 2-week day camp with the kids.
"I know for me it was an experience of a lifetime that I will always cherish and hope it was the same for the kids." James L., Cadip volunteer 2007
The volunteers will learn about Autism Spectrum Disorder (ASD) and how to support these children in a social/recreational program. Under the direction of the campleader, the volunteers will support the children to participate in small group activities such as planning and performing skits which explore daily life with ASD, preparing lunch meals, exploring the community on daily outings including local lakes, rivers, beaches and farms, etc. The group work is intended to provide children with specific tasks and encourage both appropriate social and communication skills. Volunteers will also help to create a handbook about summer activities for youth in the Comox Valley drawing on the experiences of the workcamp. The volunteers involved in this project will gain valuable insight into the world of autism.
Requirements: Volunteers need to be fluent in English. They are required to provide a clear criminal record check.
Accommodation: In a youth hostel.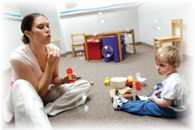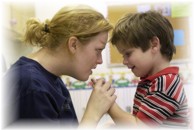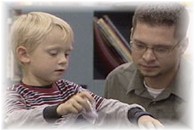 Location: Stretching along the eastern coast of Vancouver Island, the Comox Valley is a collection of rolling mountains, alpine meadows, rushing rivers, pristine lakes, lush forests, fertile farms, sandy beaches and green parks. The City of Courtenay (20,000 inhabitants) is the urban and cultural hub of the Comox Valley with its downtown considered to be one of the most vibrant and charming downtowns on Vancouver Island and an incredible cultural district that includes theatre, art gallery, museums and paleontology centre.
Nearest international airport: Victoria, BC
Therapeutic and social programs for elderly people in Vancouver
Vancouver, British Columbia
Volunteer project: The project supports the largest care facility for elderly people in the West End of Vancouver. The Centre provides independent housing, assisted living and complex care for elders. It supports the Eden philosophy and is committed to creating a human habitat where life revolves around close and continuing contact with plants, animals, children and youth. The Centre aims at establishing a homelike environment that emphasizes a quality of life supporting the physical, intellectual, emotional, and spiritual well-being of each person.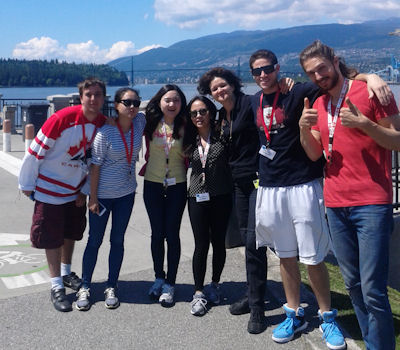 "I've done a lot of volunteering at home and overseas, but the project in Vancouver was the greatest experience of all! We all had a blast! I'll definitely come back!" Laura J., Cadip volunteer 2012
Volunteers will contribute to the quality of life of the elders by supporting them in a variety of therapeutic, social, and physical programs and special events. Activities include art, horticultural therapy, music therapy, exercise programs and seasonal/theme parties. Volunteers with musical interests are encouraged to bring their instrument. We also have several pianos on site.
Volunteers will work with residents in both one-to-one and group settings. There will be structured activities and a daily schedule of events but volunteers are also expected to be motivated, independent, and to make effective use of their unscheduled time. A typical day might include: making a collage, leading a discussion group, putting up party decorations, playing cards, and taking residents out for walks. Over the course of the summer there will also be various outings such as scenic drives, picnics, and visits to the aquarium and/or art gallery.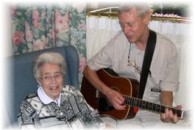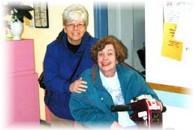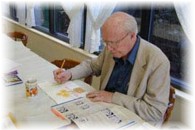 All volunteers are expected to be creative, flexible, respectful and responsive to the residents' needs. The benefits to volunteering at this project are immeasurable. We are offering volunteers an amazing opportunity to develop relationships with interesting and loving seniors. The volunteers who have a person-centered approach to their volunteerism and who are looking for these personal connections are the ones that will benefit the most from this experience.
Requirements: Volunteers are required to provide a clear criminal record check.
Accommodation: All volunteers will live at the Centre, sleeping quarters are co-ed dormitory-style and volunteers are asked to bring a sleeping bag.
Location: The project takes place in downtown Vancouver, close to museums, theatres, art gallery, and numerous other attractions. Vancouver's most popular shopping area, trendy Robson Street, is just a block away. The centerpiece and green heart of Vancouver is Stanley Park, the city's most famous landmark, and one of the largest parks in any urban centre in North America. There are wooded trails, open playing fields, secluded lakes, gorgeous gardens, and the Vancouver Aquarium, the largest in Canada. A seawall walkway meanders along the park's perimeter, with beautiful views of the city skyline, the harbour, beaches, and the spectacular North Shore Mountains. Vancouver's fame as one of the most beautiful cities in the world is tied to Stanley Park's natural beauty.
Nearest international airport: Vancouver, BC