Volunteer reviews
I want to thank CADIP for organizing the volunteer project this summer, and for giving me the opportunity to participate in a life-changing experience. I had a great time during the 3 weeks that I was there, and I have lots of wonderful memories of the people I worked with and of the community for making all the volunteers feel so welcome. I definitely learned a lot throughout the duration of the project, and I made some really good international friends in the process. Fern H.
It's always good to meet new people, to become more self-confident and open up. I think these projects are really the best way to spend the summer. You meet people from all over the world and at the same time get to know a country from a very different than the touristic view. And you also visit countries where you maybe wouldn't spend your holidays. Christina H.
I had a great experience and the workcamp gave me the opportunity to visit many places I wouldn't have been to if I had just passed through as a tourist. Almost everyone I talked to was really friendly and the countryside is really beautiful. I was very glad to see that the work we had done will have some positive effect. Alexander A.
I wanted to give you some positive feedback on my time in Clansayes, in France. I had one of the best times of my life. The program was exactly as I wanted, and so much more. I had wanted to travel to Europe, but not just backpack through the place. I wanted to get immersed in the culture to get a feel of how life can be over here. In Clansayes, I was totally in touch with the culture. The villagers treated me as a son, a brother, and a friend. The camp leader, Madj, was so diligent with regards to the positivity of our stay there. He was constantly organizing day trips, speaking with the villagers to request bikes for us, and anything else he could do to make our stay more memorable. I loved the people I was staying with. I met people from all over Europe, Russia, and Africa. I met so many people, but not only that, I had time to actually get to know them. I have learned so much from the late night political discussions with 2 serbs and 1 man from Spain. I spoke for hours, and listened for even longer. The mayor of the town was awesome, he took us swimming at his sisters house, he gave us the towns sound system when we requested music, and he pulled some strings to allow all 16 of us have a day of golfing practice. What a guy. I loved the way 2 or 3 of us would cook for everyone else, that allowed for some interesting meals, but also to get to know each other in a deeper way. If you cannot tell by my tone, I am absolutely endorsing this workcamp, I will speak extremely high of your organization and I will tell all of my friends in the states what a wonderful time I had. I believe that I am a better person for having this experience, thank you very much. Stephen M.


Hi, I volunteered in Hveragerdi, Iceland in the greenhouses through July and wanted to leave a recommendation for those perusing Cadip because I had such a wonderful time. The organization is perfect for getting an international and enthusiastic crowd together; it was wonderful to grow vegetables and learn about so many cultures in such little time. I highly recommend Cadip to anyone wanting to travel and am planning my next trip for this July! Samantha J.
I had an incredible time in Iceland in August, it was my first time doing a Cadip volunteer program and it was absolutely amazing, rewarding, challenging and fun. The nature was breathtaking and I enjoyed talking to people from all over the world and immersing myself in a new local culture. I enjoyed getting to know the values, traditions and daily routine of locals and expanding my knowledge of other cultures and ideals. Maia N.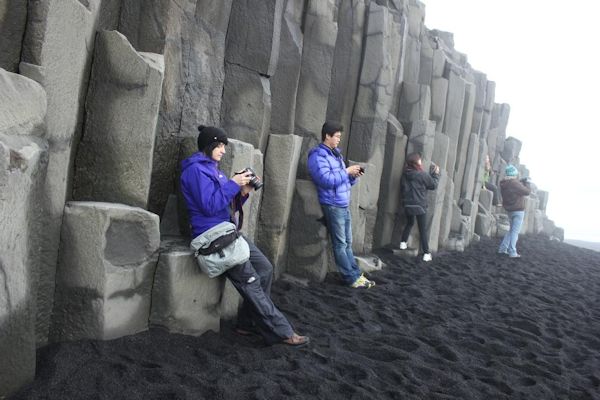 I am happy to tell you that I enjoyed the workcamp very much. It was very well organised. We not only were able to enjoy the volunteer work, but also had time to travel around on our days off. We had two very good team leaders and everyone in the group got along really well with the others. The local Icelandic people were also very kind and nice. We were invited for BBQs and dinners, fishing, rode on a Viking Boat. These were all great experiences. Thank you very much for your help and assistance. Ho Lun C.
The project was an amazing experience for me. Everyone I worked with in Solheimar was great, volunteers and locals alike. The guy that led everything, Valgeir, was great to get to know and everything was incredibly organized. He showed us around on our first day there and gave us a detailed tour of the village. The first four days, I worked outside with Urn and did landscaping (painting, laying down turf, etc), the rest of the time I worked in the forestry area or in the organic cultivation area. The people in those 'departments' were also great and I learned so much. During my stay there the group was invited for coffee and tea at one of the lady's house, which was nice to see an Icelander's house. I think doing this workcamp was one of the best experiences of my life....getting to know people from all over Europe as well as learning about Icelandic culture while working cannot be beat. We also had the chance to do excursions on our free time which was organized by Valgeir as well as some that were organized by the group itself (the group of volunteers). I will definitely do a workcamp again in the future. Fatemeh B.


Dear CADIP, I wanted to thank you for providing me the opportunity to experience a piece of the Indian Life. I attended workcamp in India during the month of August where our main objectives were to learn about the social and health problems affecting Indians, teach basic knowledge about environmental health, and help paint an elementary school in desperate need of a facelift. I wanted to share some of my memorable moments with the CADIP family.
Most of the day was spent at either school in Thirineermalai or at the School in Chrombet. In the morning we painted at Thiruneermalai and in the afternoon we taught environmental lessons in Chrombet. The evenings were reserved for cultural events, informal meetings with local government ministers, team meetings, and special dinners where we learned a lot about the inner workings of the culture – such as how Indians serve their guest first, watch you while you eat, then take food after the guests are finished.
Taking the time to glance from the ground during our hour long walk to the elementary school in Thiruneermalai, one could not help but be amazed at the colorful saris worn by the women. It became easier as days passed to distinguish economic status of a person by the type and quality of the sari – i.e. more expensive saris were made of fine silk and adorned with intricate beading.
Other great moment was the visit to the village of the students in Thirineermalai, which is a poor town of Chennai. This put a human perspective on the way people deal with their current realities. There was also the trip to Mamalapurium, a touristy location, but not without its insights. For example, for the first time during the work camp I saw a garbage can in India. It was empty. There were many talks, interviews, and discussions concerning cultural habits that may contribute to the waste problems in India, and also how India hopes to change perception of waste management.
There were many others things to describe as well: the Hindu Temples, the Jain, the unique way in which Indians eat food – they eat everything with their hands, and so did I – from the intricate caste system that was present as we ate our dinner in a minister's luxury home while the help hid from view and ate scraps in their corridor, to the invisible people who clean the trash in the street and the many, many street vendors selling fruit and everything imaginable.
My time in Chennai, India was short, but heavily concentrated with rich cultural events. It was not all fun and games, we literally worked. But we learned every step of the way, each day a little more about the Incredible India. Thank you CADIP for making this opportunity possible. Murphy C.
I thoroughly enjoyed the 3 wk. project in South India. I didn't want it to end. As I am very passionate about children, yoga, and holistic modalities this was the perfect project for me. I also met new international friends and had many cultural exchanges with them and the children at St. Mary's school. This was a life changing experience for me and I plan to return to India in the future to study and live at a yoga ashram. I was fortunate enough to visit and stay at Amma's ashram near Allepey for a couple of days after the project finished. I personally think Kerala, South India is pure love! The head sister at the school was so warm and welcoming as were the people in Kannur. We learned about some of the Indian traditions and celebrations from our coordinator and team leader as well. I highly recommend this project if you are passionate about children, holistic practices and have an open mind. Thank you. Lisa Z.
My Trip to Mexico: The paperwork wasn't lying when they said you'd be sleeping in a palm hut! The beds are made of wooden boards, so it is behoove of you to bring a sleeping pad! The place itself is pretty secluded. Town is maybe 10-20 minutes walking distance from the camp. There are a few small stores with the bare necessities and a computer lab. Outlets in Mexico are the same as in the United States; the camp didn't have any but the town did have a few. Don't be surprised if you have horses, donkeys, or cows walking through the camp.  
The locals work by the week; so each week you work with a different group of people. They always have at least one person there 'on watch'. Generally, depending on who their team leader was, we would start work between 2000 and 2100. Work would last 4-7 hours. One to two volunteers are usually assigned to a local. There are four zones on the beach; two of them are collecting and two are marking. Depending on who you work with and certain zones, you can mark the turtles with a metal tattoo / tag that contains a tracking number. The collecting zones involve waiting for the females to lay their eggs, helping move her out of the hole, measuring the length of the female's shell, noting if she has a tag, the time, zone, and digging up the eggs (anywhere from 1 to over 130) for transport. Once collected, the eggs are transported back to camp where they are buried and marked. There is also a group assigned to release. Once the babies come to the surface, you collect and count them before taking them down to the ocean for release.  
Our group got up between 0900 and 1000 for a late breakfast. Some people went to the town for food, supplies, or internet. Others stayed at camp to read, clean up, nap, or enjoy the beach. Swimming is not authorized at the turtle camp; however, you could go just beyond the town and go swimming there. On the weekends we would usually go to a beach either farther east or west of camp for different scenery. There are some walls in the town that could use a nice mural or something on them… we didn't have time. A few of us did post signs along the road marking how close the camp was (500 m, 1000m, and 1500m). Don't be afraid to hitchhike, by far the cheapest and quickest way to get around.  
The trip was an amazing time. I met some awesome people from all over- Finland, Wales, South Korea, France, Mexico, and the United States. I'd recommend this kind of volunteer project to anyone that loves the outdoors, beaches, and turtles! Natalie D.
This is Stefan from Canada! I taught at the high school in Lamjung from October 2013 to January 2014. From the time I got off the plane in Kathmandu, the locals made me feel like I was a part of a family. I was welcomed into the local coordinator's home, fed meals with his family, and briefed on the customs and culture of Nepal; and this was before I even reached the village where I would be staying for my volunteer period. Living in the village, I could not have asked for a better cultural experience. I had the opportunity to help my family harvest rice, cut grass for the goats, and was treated like a son - not to mention the delicious food that I was fed each and every day. I developed a close relationship with each of the 90 students at my school, and learned more from them than I think they learned from me. My entire experience has been nothing but positive, in terms of both professionalism and administration, and my only regret is not staying here longer. I can't wait to come back. Stefan S.
Our volunteer work consisted in the construction of a new building for the school. We were a fabulous team: volunteers from the neighbour village and Joyce and Alan from Canada, David from Ireland and me from Spain. The weeks we spent together were great, we did a very good job almost finishing the construction and we learned a lot from each other. Greta T.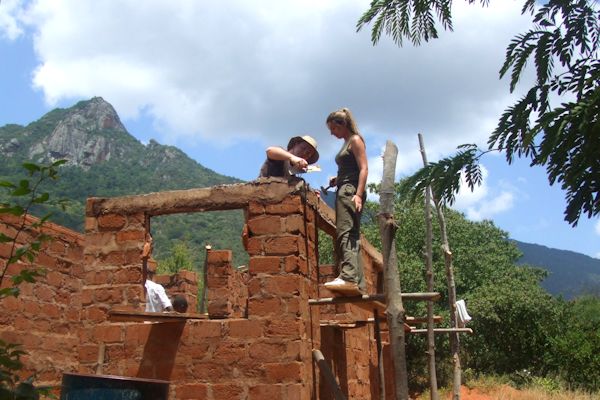 I wanted to do international volunteering so that I could experience life in another country and boy did I have my eyes open. The living situation is much different from what I was used to and the weather was quite hot and dry. The good thing about the volunteering experience was that I got to try a lot of different Vietnamese delicacies that I have never even heard of before. The volunteer house which we stayed in served as the daycare for children as well and surprisingly, the children were very open to us. As in they would play and try to talk with us even though we had just met. The best thing about the experience though were meeting the local volunteers. They were all so nice and helpful since they would accompany us everywhere and would also help us out whenever we needed help. They taught us what to be careful of and explained the situation of the country. Although it took some time to get used to the country, my volunteer trip in Hanoi was definitely worth it. Jenny H.
Volunteering in Hanoi was a life changing experience for me because I have never been to any Asian country before in my life except for Hong Kong. The living environment was very different from what I was used to in Canada, as well as the weather. There were motorbikes everywhere and it seemed like it is hot and dry everyday there. However, the people at the volunteering site were extremely friendly, especially the local volunteers. They have helped me in many ways to adapt to the country by explaining to me the local customs and history of the country. The children were nice and often tried to play with me and were overall eager to learn. This is definitely an experience I would never forget. Calvin H.
I have just completed your project. I had an excellent time, and it was a very good experience. I want to thank you for offering such a high quality workcamp, and I look forward to participating in more of your short-term actions in the future. Kristina P.
Visiting a new country and being welcomed by its people whilst sharing such a unique and positive experience is an opportunity not to be turned down. Live for the moment, take up the challenge and go! Katriana T.
The idea of International Workcamp is such a brilliant idea and have been proven successful through our experiences. Many cultures were shared among new friends throughout these workcamps. Much flexibility in building the programs of workcamps allows volunteers to fully contribute their skills and talents. Wing Man W.
As time went on during the camp, relations got stronger and stronger. The volunteers were really integrated with the children. We had a close group where nobody was an outsider. This was very special. Marcel R.
Very enjoyable. I am very sad to leave. The whole experience has been great. Many different people within the group. I feel we all got on well and learnt things from each other. I have learnt many things about myself and life in general. Stephanie D.
I feel this was an extremely rewarding and worthwhile experience. The group were fantastic people and made the whole experience even better than I could have imagined. I feel privileged to have been a member. A fantastic opportunity to travel and learn, not to be missed !!! Aisling A.
I felt good about making a difference, and also about doing something for others. I feel that I've received more from the local people than what I've given, and perhaps next time I go on a workcamp, I will be more prepared to "give". It was quite a valuable experience. Joo Hyun K.
I've had a great two weeks and I look forward to doing more volunteer work in the future. All the locals are extremely friendly and are always willing to help out. I would recommend this to anyone. This has been one of my best life experiences. It has given me a positive outlook towards life. Andrew H.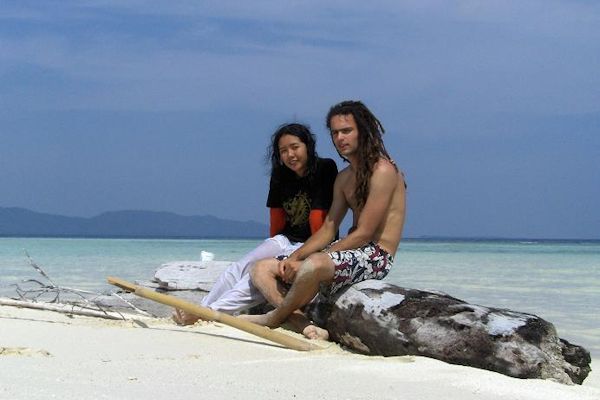 To see how things are done on other places gives a new view of the world. It has been the greatest experience! I've enjoyed my stay and I'll go again! Hanne P.
I have had a fantastic 2 weeks with very welcoming, generous and fun-loving people and feel privileged to have been part of their lives. I've also enjoyed spending time with like-minded people from other countries on this project, and being here has made me feel very lucky for what I've got and the opportunities I have.Amy Z.
I learned much more than what I expected before I came here. It certainly affected my personality and career choice in the future. Workcamp is one thing you should definitely experience in your life time. You will see great sights, meet great people and have great experiences. Asami M.
Getting different experiences in contact with people helps to develop yourself as a human being. Every intercultural exchange makes from foreigners friends and you forget the borders separating us all. Even if you don't speak the same language there is always a possibility for communication. Just try! Martin S.
It was an amazing experience for me. I loved working with the kids, even though at times it got really hard. It has made me more aware of the needs of neglected children and has even made me think of going into some sort of child welfare work/studies when I return home. Tamara T.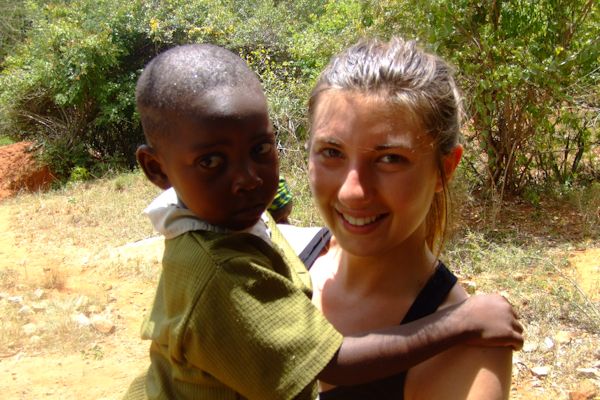 It has really changed my perspectives - I have seen something that no one else I know has seen, and have been positively affected. Kathleen L.
I would definitely recommend volunteering to anyone. It is a fantastic opportunity to help others, while learning a lot about yourself. I have met a lot of new fascinating friends from around the world. I will definitely be volunteering again. Vikki S.
Volunteering helps to get to know each other better, to share impressions and feelings in the context of work. It was a good experience. I've made a lot of friends and I felt like in a big family, everyone was so nice and friendly. Felicia C.
I had a very precious experience that helped me improve myself. Joji B.
I have realized how much you are actually able to do together if you have a goal and don't give up about it. I have had a great time and will definitely go to a workcamp next year! Johanna G.
Don't hesitate to visit a country whose culture and language you don't understand: your experience will be better than expected, as every day you'll see your progress in understanding people and the culture, and you'll be glad to visit exotic marvelous places. Rut A.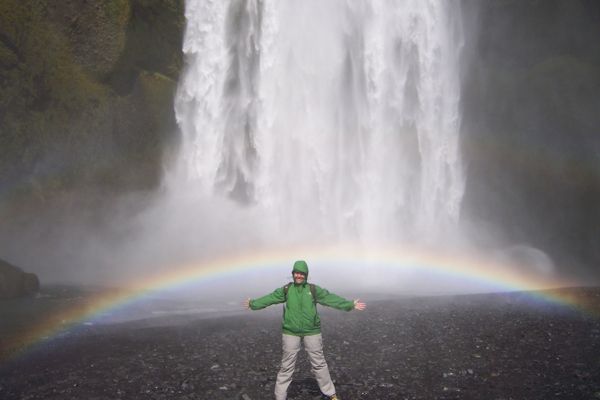 You get to really experience the culture of the country you are in and there are many people who are willing to do voluntary work for good causes. It's great being part of an international group of volunteers as well. It makes for a good time when you're not at work. Rowan P.
In general I prefer workcamps to normal touristic holidays, because you get closer to culture and people. Work was very useful, both painting and playing with children. I was happy to see that what we did is important. To be able to help is always good for someone's personality. Rasmus S.
The most interesting part of camps such as this one is the chance to work in a group, with purpose. Usually people in some developed countries forget how to live together, how to work together, how to share. Camps like that give one the chance to look beyond himself. Apostolos T.
A workcamp is the most amazing way to have a unique experience that will give you new skills and insights. It's a fantastic way to travel and learn. It helps you to live life to the full, as every day is full of amazing experiences, and every day counts. Anne K.
I expected to find good friends and I managed. I really enjoyed spending time together with the whole group and I think that it is very important for the group to do everything together. Olga V.
It's a very interesting way to get to know another country and its culture. It has been a great experience for me and it has been great for my professional future. There are no words to explain this experience. The only way to understand it is living it. Lorenzo N.
No matter which culture or situation, we are all the same. The more you put in, the more you received regarding friendship and confidence. Anna K.
A workcamp is certainly one of the best ways to discover the people of foreign countries. For me that was a unique experience. Try it. Henry D.
I think it's not the work alone that made this workcamp significant. For me the most important thing was that there was a foreign group in the park, which showed that preserving nature is something very important. So the mixture of doing something for the park and being in the park is the real important thing. Till D.
I'd really recommend this to a person wanting to spend some of their time with a set purpose. There is plenty to be done whatever your "skills", even if you have none. Anyone with patience, enthusiasm and an ability to keep the mind fresh could really benefit from volunteering abroad. Alexander W.