Volunteer in Belgium
International Rock Festival of Dour
Dour July 9 - July 15, 2019
Volunteer project: Dour Festival is a five-day music festival with more than 200 artists performing on six stages. More than anything, it is a unique concept and a wonderful atmosphere. The line-up is more international than ever, however a large part of the program is dedicated to Belgian artists.
Once again we expect to relive Dour Festival's unique atmosphere this year, which has gained the festival a reputation worldwide. Over the five days, an eclectic crowd live together, letting cultural and social differences slide. The festival-goers create a sort of energy that is hard to describe. Perhaps this is due to the diverse line-up – so abundant, coherent, and challenging that you get the impression that everything is possible. The festival crowd is open-minded and passionate for music in the broadest sense of the word.
On the media side of things, the coverage of the festival each year is vast, with more than 1000 journalists turning out. Last year we noted the presence of journalists from Australia, Canada, Switzerland, Czech Republic, Germany, Estonia, Spain, Greece, Ireland, Luxemburg, Poland, Reunion Island and the USA.

The volunteers will be part of the Green Brigade, helping keep the area clean and tidy. The team will collect and recycle waste to ensure nice and safe grounds for the festival-goers. Volunteers will also do some manual work: building stages, carrying materials, etc. The tasks could be heavy and repetitive at times.
The volunteers in this project will have the chance to discover various sides of the festival organization. Volunteers have to be flexible and enthusiastic. And most importantly, they must love music!
The volunteers will work about 6 hours a day, probably early in the morning. During the time off, volunteers are free to enjoy the festival and the concerts (concerts start at noon and end at 5.00 a.m.).
Possible free time activities: The nearby Dour and Mons offer various opportunities for free time activities (museum, Scientific Adventure Park, the Museum of Contemporary Arts, cinema, etc.). There are also opportunities for sports and outdoor activities, as well as many opportunities offered by the natural environment (La Chaîne des Terrils, le Parc Naturel des Hauts-Pays, l'Insectarium, les sentiers de grande randonnée, etc.).
Language: English or French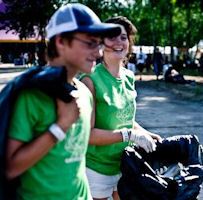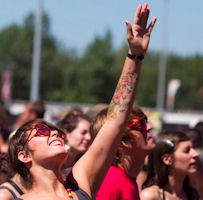 Accommodation: A camping site is reserved for the volunteers. It is well located, in a quiet environment outside the festival grounds. You need to bring your camping gear (tent, mattress, sleeping bag).
Location: Dour, Province of Hainaut
Nearest airports: Charleroi Bruxelles-Sud, Bruxelles (Zaventem), Lille-Lesquin
Nearest train station: Saint-Hislain, Mons
Nearest TGV stations: Mons, Bruxelles, Lille
Age range: 18 - 40 years old 
Extra fee: 60 Euro
Long-term projects in Belgium