Volunteer opportunities for teens
Teen volunteer experience on the move around Iceland
Iceland
6 projects of 2 wks from June to August
Volunteer project: The volunteers will travel around Iceland and stay in three different places – Hrutafjordur in the North West, Raufarhöfn in the North and Stodvarfjordur in the East.
Volunteers will have environmental educational sessions in different areas in Iceland. We will give a special focus on global warming and the volunteers will have workshops about climate changes. The issue of global warming is well known all over the world. The humanity must act in a more environmentally friendly way. The main goal of this project is to improve the environmental education and consciousness of the project participants. Within the project, we will learn about green energy, sustainable householding, waste treatment, nutrition, the effects of consumption and lots more. If you want to change something, develop solutions or inspire others, you must understand the issues and tasks first. In addition to the theoretical part, we are going to practice sustainable work. For example, planting trees is one of the main exercises of the projects. Planting trees is a very useful action against climate change because trees absorb carbon dioxide, clean the air and prevent erosions. Take part in this promising project and spring into action against climate change!
During the project, the teenagers will also have an exploration workshop on photography in the digital age to help them learn how to get the most out of their cameras while being creative in the process. They will get hands-on instructions and experience with the tools necessary to research, compose, capture, and refine digital photographic projects. Please note that we do not have a professional photographer to guide them.
We will also focus on intercultural learning and exchange. Every evening, teenagers from different countries will present their country and culture in an informal way. It can be a presentation, game, theatre – the form of introduction is up to you!
This project gives you the opportunity to spend an amazing time in Iceland with other international volunteers and to have an incredible experience where participants share their knowledge with each other while exploring creativity, environmental issues and intercultural learning.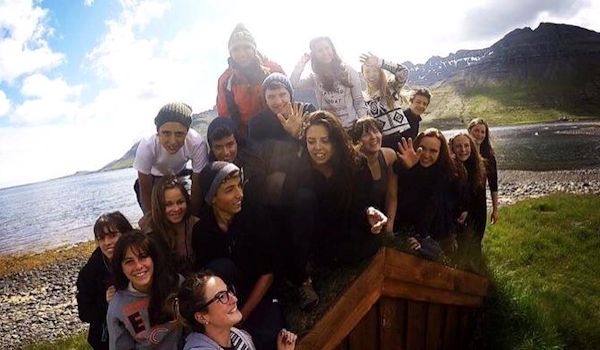 Language: English
Leisure time: Volunteers will travel all around Iceland and they will also have some leisure activities such as kayaking, going to different swimming pools, hiking.
Accommodation: The group will be staying in the volunteer houses in Hrutafjordur, Stodvarfjordur and Raufarhofn. Each house has several dormitories, a big living room, a fully equipped kitchen, showers. Beds are provided, however, volunteers should bring their own warm sleeping bags. Wireless internet access is provided free of charge.
Location: This volunteer project is "on the move" around Iceland, with stops in three different places – Hrutafjordur in the North West, Raufarhöfn in the North and Stodvarfjordur in the East.
Hrutafjordur: A new center for environment and sustainability was opened near to the crossroads to the West, South and North of Iceland. The center is in the area of Hrutafjordur which is a 36 km long fjord in Hunathing vestra. In the neighbourhood you can find pure and unspoiled nature, beaches full of driftwood, Snæfellsnes peninsula, glaciers in the highlands, waterfalls, strong rivers, canyons and craters. The purpose of the center is to protect the nature in the area and to raise awareness of sustainability among the locals and the visitors who are coming to the area.
The center is more than 1000 m2 and has 16 double rooms, two kitchens, several bathrooms and common areas, rooms for workshops and galleries. It has its own generator to produce electricity for heating and daily use.
Stodvarfjordur: Scoured by Ice Age glaciers, the dramatic east coast boasts long, narrow fjords with steep sides and jagged peaks which contrast with inland fertile farmlands. Natural harbours depict postcard-like fishing villages and seemingly never-ending roads cross the region, providing beautiful views.
"Fjarðabyggð" is an association of villages in the Eastern fjords of Iceland. It includes the towns of Eskifjörður, Fáskrúðsfjörður, Mjóifjörður, Neskaupstaður, Reyðarfjörður, Breiðdalsvík and Stöðvarfjörður, all tiny fishing villages with steep mountains towering just behind the houses. In this area you will see some of the features that make Iceland a unique place in the world: spectacular fjords with a rich sea life, a great variety of birdlife and countless breath-taking hiking paths. You will explore the area during your stay in the east.
Raufarhofn: The village of Raufarhöfn is the community that lies farthest north in Iceland. It is located in the eastern part of Melrakkasletta close to the Arctic Circle. The population of Raufarhöfn is about 200 and most of the people there earn their living from fishing and fish processing. The harbor is very beautiful and partly shaped by nature itself. A wide and untouched open area surrounds the village with a lot of birds and varied vegetation. In summer one will observe wild migratory birds within the village being a part of the village life with the villagers most often waking up in the morning to the songs of birds. The coastline with its inlets and creeks is filled with driftwood and reaches out into the Arctic Sea. Away and on the surface of the sea various sea-birds will be spotted and an occasional seal. On the beach waders strut and inland on the grassy moorlands there are dozens of lakes filled with trout. In the vicinity many species of ducks, waders and species that favor heaths and moorlands may be observed.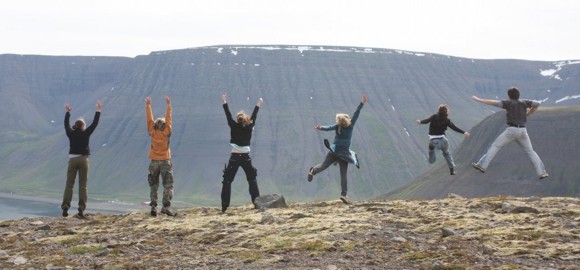 Terminal: Flights arrive at Keflavik International Airport (KEF), just south of Reykjavik. The teen volunteers can be picked up at the Keflavik airport free of charge.
We will drive along Road No.1. This trip includes several stops where you will discover unique Icelandic sights, such as glacial lagoons, waterfalls, volcanic and geothermal areas, glaciers, lava fields, hot-springs, rhyolite mountain ranges, steam-vents or even icebergs.
Age range: 14-17 years old for the projects from June 15, July 2, July 15, August 2 and August 15; 16-18 years old for the project from June 18;
Extra fee: 600 Euro
The fee includes the tour around Iceland.
The extra fee is intended to support the local host of the project and is payable upon arrival.
All available dates for this project:
June 15 - June 24, 2020 | Age range: 14-17 years old
June 18 - June 27, 2020 | Age range: 16-18 years old
July 2 - July 11, 2020 | Age range: 14-17 years old
July 15 - July 24, 2020 | Age range: 14-17 years old
August 2 - August 11, 2020 | Age range: 14-17 years old
August 15 - August 24, 2020 | Age range: 14-17 years old
Teen photo marathon in Iceland
Reykjavik,
Iceland
7 projects of 2 wks from June to September
Volunteer project: This is the 13th year that series of International Photo marathons are organized! Throughout the year, participants from all over the world come to Iceland for an immersive photography related learning camp. The coordinators help the participants to develop their unique photographic skills through workshops and feedback sessions on technical settings, compositional considerations as well as developing conceptual frameworks which progress the participants' individual style.
At the end of the workshop, we select some of our best pictures from the stay and prepare those images for an informal group exhibition locally. While learning about photography, the participants explore Icelandic culture by taking part in it, capturing it and also by displaying their work during the camp. One of our objectives is to deliver messages and draw the attention to the locals through pictures made during the project.
Participants should be prepared for walking and visually exploring the city streets and working within a flexible time schedule. They will be photographing in their free time outside of workshop hours with images to be discussed at group feedback sessions. Participants should arrive ready to shoot and should bring with them their own digital cameras, lenses, laptops and tripods if possible.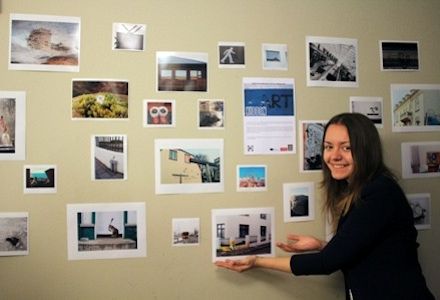 Please note that this project is a learning/sharing camp and not a regular workcamp. We may be able to organize some outdoor voluntary service activities but this depends on the weather. Participants should use the opportunity to share something about their own culture and country, such as food, music, games and films, with the international group.
This project is open for 16 to 20 years old participants. The program combines learning, sharing, getting to know Iceland, its culture, having fun, as well as exploring the capital city and some of the most stunning nature attractions in the Golden Circle and the South Shore excursions. We will visit spectacular waterfalls, geysers, impressive coastline, a volcano crater, the National Park of Thingvellir and much more.
Language: English
Leisure time: Additional excursions (e.g. Snaefellsnes, Hot River hike or Reykjanes Peninsula) can be arranged at discount fares.
Accommodation: The participants will stay in an equipped house in Reykjavík which is located about 4 km from the centre of the city. The facilities are basic with a kitchen, showers, a washing machine, and everyone is expected to show consideration for their companions. The group will sleep in shared rooms and participants should bring their own sleeping bags.
Location: Reykjavik is a dynamic, modern city which lives in harmony with beautiful nature, using renewable energy sources - geothermal power and glacial rivers. The world's northernmost capital bridges the Atlantic between Europe and North America. Reykjavík is spread across a peninsula with a panoramic view of the mountains and the Atlantic Ocean on almost all sides. It is an international city with a lively cosmopolitan cultural scene.
The projects in June and July happen around the summer solstice, when the sun hardly sets and the nights are almost as bright as the days. The bright nights are magical and staying awake enjoying the beautiful surroundings is a unique experience.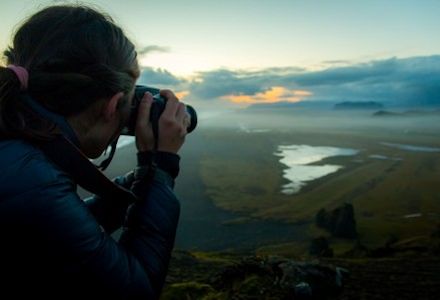 Terminal: Closest international Airport: Keflavík/Reykjavík (KEF). Bus station: Central Reykjavík (BSÍ).
Age range: 16 - 20 years old
Extra fee: 500 Euro for the projects until July 6; 600 Euro for the projects after July 9;
The fee includes transportation from the meeting point to the project site and back (on the first and last day), as well as the Golden Circle and South Shore excursions (1 full day each).
The extra fee is intended to support the local host of the project and has to be transferred no later than one month before the start of the project.
All available dates for this project:
June 20 - June 28, 2020
June 28 - July 6, 2020
July 9 - July 18, 2020
July 23 - August 1, 2020
August 6 - August 15, 2020
August 20 - August 29, 2020
September 1 - September 10, 2020
Let's make a film
Yeni Sakran, Izmir,
Turkey
July 3 - July 11, 2020

Volunteer project: This is an international thematic camp for the age group 14-16. Teenagers from different countries will create a group film in a youth center by the seaside. The majority of the group will be Turkish teens, but the camp language is English.
The volunteers will make a short film using hand cameras and computers. They will use their creativity and express their ideas to write the scenario, act, shoot and direct their own film in this project. Besides filming, the daily program of the project will also include other activities like sports, arts & crafts, creative drama, music, etc. Turkish and international volunteers will be leading or assisting the daily activities.
The Youth center is a place where various voluntary and youth camps are hosted. The project site is safe and secure, and participants will not be allowed to leave the campsite on their own.
Language: English
Accommodation: At the Youth center, in 2-3 bedded rooms with showers and toilets. Sleeping bag and mat are not necessary. Food will be served in the center.
Location: Yeni Sakran is in the west of Turkey. The center is by the seaside. The nearest city is Izmir.
Terminal: Istanbul or Izmir
Age range: 14 - 16 years old
Extra fee: 300 Euro
Restoration of heritage sites in Etoile
Etoile sur Rhone, Auvergne-Rhône-Alpes,
France
July 5 - July 18, 2020
Volunteer project: For more than 30 years, the municipality of Etoile has hosted international volunteer projects. This year, in close collaboration with the young people of the youth house, we will welcome an international group of teens from 14 to 17 years old, for a discovery experience and exchanges with local young people. So if you want a first volunteering experience, you want to exchange with French people while discovering this beautiful corner of Drôme, this project is for you!
You will work 4 hours a day, in the morning on the work site: it will mainly be traditional masonry work. With a mason to guide you, you will carry out during these 2 weeks the cleaning of an old city wall. It will first be necessary to remove the stones in poor condition, redo the joints to consolidate the frame. Then you will restore the wall according to traditional techniques: it will then be necessary to make a lime mortar, cut the stones, position them. Your group will work jointly with a group of young French people, residents of Etoile. This will allow exchanges and common learning. The site is a 10-minute walk from your accommodation. Volunteers are required to comply with the safety instructions.
Supervision: 2 qualified campleaders will be present on site to supervise the group.
Language: English
Leisure activities: On site, you will have many exchanges with local young people and interactions with local associations. You can visit Valence, Crest or even the Château de Crussol, depending on the tastes of your group. Be ready to introduce other volunteers to your country and your culture!
Accommodation: In a building or under tents in Etoile. The building is a former chapel which has been restored and has been hosting groups of volunteers for 20 years. The chapel has a large common room, dormitories, a kitchen, a washing machine.
Location: Located 12 km south of Valence and around 35 from Montélimar, in the Drôme department, Etoile (5,000 inhabitants) is a town which overhangs the Rhône valley. Its village, at the heart of an enclosure of the 15th century, reveals an architectural heritage of quality: a church, stone houses, a chapel and a castle. As for its countryside, it is characterized by very diversified landscapes (the banks of the rivers Rhône and Véore, agricultural and fruit-tree zones, hills and woods).
Terminal: Valence
Age range: 14 - 17 years old
Extra fee: 400 Euro
Nature experience camp for teens
Vassieux en Vercors, Auvergne-Rhône-Alpes,
France
July 13 - July 24, 2020
FRENCH SPEAKING PROJECT
Volunteer project: The project is based in an outdoor nature camp in the heart of the Vercors Regional Natural Park, a protected area of forested mountains in the Rhône-Alpes region of southeastern France. All kinds of projects have been hosted here through the years, with one goal: to allow everyone to discover life outdoors. The site is meant to become an educational eco-place about the biosphere and renewable energies. Since 2011, the camp has hosted groups of young volunteers who have come to carry out work in the context of transition and renewable energies while living a collective outdoor experience.
Your mission will be to continue the eco-construction work started by volunteers from previous years for the creation of an outdoor kitchen on the site. You will also participate in the construction of a collective garage in collaboration with volunteers from the local recycling store. This work will allow you to learn about natural (straw, earth) and eco-responsible construction techniques. At the same time, the camp allows volunteers each year to create an artistic creation (play, concert, puppet show, song).
You will be supervised by two campleaders as well as volunteers. Two former volunteers will also join the young participants.
Special requirements: This is a French speaking project. French will be the main language of the daily life, work and activities. We expect the volunteers to have at least a basic level of French. Please note: this is not a language study trip.
Language: French
Leisure activities: With the help of the group leaders, you can organize numerous leisure activities: group games in nature, hiking, visit to local producers, visit to a recycling centre. The Vercors plateau was a major site of the French Resistance during the Second World War. A museum dedicated to the history of the maquis will allow you to discover this part of local history.
Accommodation: You will be accommodated in tents on the camp site and you will have sanitary facilities and showers on site. An outdoor kitchen and living space will also be available. The facility is comfy but basic, made for the outdoors enthusiasts. With the help of your campleaders, you will actively participate in the organization of daily life. As much as possible, meals will be prepared using local and organic products corresponding to the special attention paid by the camp to the management of resources, waste on site and the origin of food. In this context, you will certainly reduce your consumption of meat during the project, and thus your impact on the planet.
Location: The campsite is located a few miles from Vassieux en Vercors, a mountain village at over 1000m altitude.
Terminal: Die
Age range: 14 - 17 years old
Extra fee: 380 Euro