Volunteer in Iceland
Renovating volunteer houses and chasing the Aurora in the East of Iceland
Fjardabyggd 3 projects of 2 wks in October and November
Volunteer project: In this project, volunteers will take on different tasks related to the renovation and maintenance of volunteer houses in the East of Iceland. The work depends on each volunteer's skills and knowledge, but focuses mainly on tasks such as painting, cleaning, fixing small things. This project is very important for the future volunteer programs in the East. If the weather conditions are good, we will also help the local community with various environmental works.
In addition, winter time in Iceland means Aurora Hunting. If you like photography, the Northern Lights and sharing an amazing time with friends from all over the world, this is the perfect project for you. We will be on the lookout for Aurora Borealis at night throughout the whole project, so you will have the opportunity to take photos of this amazing and unique phenomenon. It is very important to bring your camera with you (only cameras that work in long exposure will catch those lights), and don't forget your tripod. You can also bring your laptop, as it can come in handy.
This project gives you the opportunity to spend an amazing time in Iceland with other international volunteers and to have an incredible experience where participants share their knowledge with each other while exploring creativity, environmental issues and intercultural learning.
Language: English
Leisure time: Reasonably-priced weekend excursions can be organised to some of the most popular, beautiful areas and natural wonders that Iceland has to offer. The area in the East is also good for hiking.
We will also concentrate on intercultural learning and exchange. Every evening, volunteers from different countries will be in charge of presenting their country and culture in an informal way. It can be a presentation, a game, theater - the form of introduction is up to you.
Accommodation: The group will be staying in the volunteer house in Stodvarfjordur. The house is almost 500 m2 with several dormitories, a big living room and another smaller one, and two fully equipped kitchens. Beds are provided; however, volunteers should bring their own warm sleeping bags. Wireless internet access is provided free of charge.
Location: Scoured by Ice Age glaciers, the dramatic east coast boasts long, narrow fjords with steep sides and jagged peaks which contrast with inland fertile farmlands. Natural harbours, picture perfect fishing villages and seemingly never ending roads provide beautiful sweeping views. This is one of the best places in Iceland to see the Northern lights (Aurora borealis).
"Fjarðabyggð" is an association of villages in the Eastern fjords of Iceland. It includes the towns of Eskifjörður, Fáskrúðsfjörður, Mjóifjörður, Neskaupstaður, Reyðarfjörður Breiðdalsvík and Stöðvarfjörður, all tiny fishing villages with steep mountains towering just behind the houses. In this area, you will see some of the features that make Iceland a unique place in the world: spectacular fjords with a rich sea life, a great variety of birdlife, and countless breathtaking hiking paths.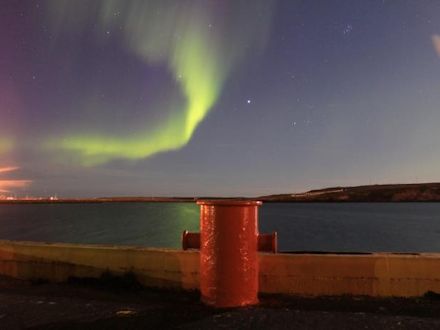 Terminal: Flights arrive at Keflavik International Airport (KEF), just south of Reykjavik.
The volunteers will travel together from Reykjavik to the Eastern fjords and back. On the way to the project site, we'll travel through the south to the east of the island. On the way back, we'll travel through the north and west to Reykjavik, if road conditions are favorable. This trip includes several stops where you will discover unique Icelandic sights, such as glacial lagoons, waterfalls, volcanic and geothermal areas, glaciers, lava fields, hot-springs, rhyolite mountain ranges, steam-vents or even icebergs.
Age range: 18 and over
Extra fee: 450 Euro
The fee includes the trip from Reykjavik to Stodvarfjordur and back which is almost 1,400 km in total and takes 2 full days (the first and the last day of the project).
The extra fee is intended to support the local host of the project and is payable upon arrival.
All available dates for this project:
October 3 - October 13, 2019
October 13 - October 23, 2019
October 23 - November 2, 2019
More projects in Iceland