Organizing art workshops for disabled people in Istanbul
Istanbul 1 to 3 months
Volunteer project: This project is running since 2008 in support of a Center for socially disadvantaged individuals and people with disabilities. The Center has educated free of charge more than 2000 people in its art education workshops. It carries out two sub-projects with its innovative and creative pattern. The Social Inclusion Band works under the motto of "Music For All" and involves youngsters with disabilities and professional volunteer musicians. The band gives concerts regularly in the best clubs in Istanbul. The Dance Company, which is a drama and dance group, performs on the scene with professional artists.
The volunteers will help at the Center in İstanbul with all aspects of workshop preparation, workshop performances as well as any other office or field work related to the project.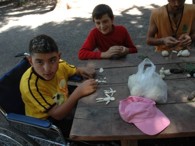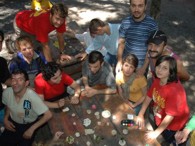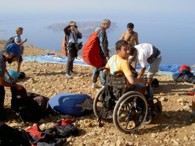 The volunteer work involves: serving and assisting people with disabilities at workshops, assisting the instructors before and after workshops, organizing and running events on and off-site. Volunteers will work 6 days a week and have 1 day free in the weekdays as most of the weekends they will be busy. Most of the days, 8 working hours are required. Please note that although the project is in İstanbul, you will have limited time to visit the city, due to long working hours.
Special requirements: Candidates should be at least 20 years old and have a strong motivation to work with disabled people, socially disadvantaged groups and individuals, and write a detailed motivation letter including their experience (if any) and wish to be a part of a hard working team. Previous experience is preferable but good mood and good will are more essential.
Volunteers talented in dance, drama, playing a music instrument, juggling, photography, film, drawing, rhythm, vocal/choir will be preferred, although you may offer to teach another art or activity. Teachers of above-mentioned fields are needed especially. The motivation letter should be sent along with the application form.
Language: English
Duration of the project: Minimum stay is 1 month up to 3 months. One can start any time, but please be aware that, as the beginning dates are flexible for each volunteer, you might be the only volunteer during your stay.
Accommodation: In a dormitory near the Center at the Asian side of Istanbul. Sleeping bag and mat are not necessary.
Location: Batı-Ataşehir is a modern part of Istanbul at the Asian side. The project site is close to many attractions.
Terminal: Istanbul
Age range: 20 and over
Participation fee: $690 CAD (about $520 US)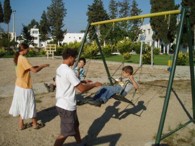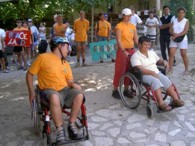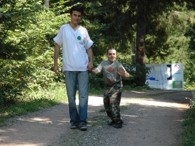 Social integration of disabled people through art and sport
Antalya 1 to 3 months
Volunteer project: Volunteers in this project will work for the social integration of people with disabilities through art and sport. The project base is a multi purpose center in a village nearby Kas, Antalya in the south-west of Turkey. In this venue, people with disabilities, who have been excluded from mainstream educational opportunities, have the chance to get education in various fields such as painting, rhythm, instrumental training, dj, drama, photography, sculpture, ceramics, personal development, sign language as well as sports education such as scuba diving, swimming, sailing, canoeing, boat skipping, trekking, various outdoor trainings, yoga and pilates, etc.
Volunteers who are willing to work with and for disabled people are welcome. Please be aware that the center is open all year but disabled people mainly will be there between May 15 – October 30. Thus you should consider their absence if you are willing to come out of these dates and sometimes even within these days. When there is no disabled groups in the center, volunteers will be expected to take up other tasks from the list below.
Although we do not require a nonstop working effort, volunteers are supposed to dedicate their time and energy when needed. Your help is required all day long, with breaks of course. You can help with the overall running of the site in different fields. Volunteers who can undertake more than just one task will be preferred. The work fields are as follows:
1) Kitchen : Food preparation / cooking / table setting / food serving / dish washing.
2) Field : General cleaning of all units / fixing buildings, boats, bikes, instruments / gardening both in main facility and in eco farm / animal care (mainly horses), farming, harvesting, landscaping.
3) Training as artist or assistant or just helper : Art workshops (painting, dance, rhythm, instrument, dj, drama, photography, sculpture, ceramics, handicraft) / courses (PC, foreign languages, personal development, sign language) / reading & library management / sport (swimming, scuba diving, sailing, rowing, canoeing, trekking, outdoor sports, volleyball, badminton, biking, bocce, climbing, archery) / boat skipping / various outdoor trainings / yoga and pilates.
4) Organization : Entertainment and event organization / indoor – outdoor games, driving & transportation / short trip guiding / health care & first aid / free time activities.
5) Administration : Office work (web and social media support / design, graphic design / administrative assistance / leading volunteers.
Special requirements: Minimum age is 20. A detailed motivation letter should be sent with the application form. Volunteers who can take responsibility of more than one task will be preferred.
Language: English. Turkish classes can be arranged for volunteers upon request.
Duration of the project: Duration of the volunteer placement is up to 3 months. Please, note that the beginning dates are flexible for each volunteer, and you might be the only international volunteer during your stay.
Accommodation: Although a guest house and dormitories are available, volunteers might be asked to stay in tents when necessary. Disabled members of the arriving groups have the priority in using the dormitories. Sleeping bags, mats and tents will be supplied but those volunteers who prefer to bring their own ones are welcome to do so. Breakfast, lunch and dinner will be prepared and served at the facility.
Location: The center is in Kas, Antalya. Kas is one of the most popular coastal towns in southern Turkey and our facility is in a small village, 11 km away from the Kas City Center. The center has 16.000 square meters for various purposes.
Terminal: Kas. Volunteers will be met at Kas Coach Terminal and transferred to the center.
Age range: 20 and over
Participation fee: $690 CAD (about $520 US)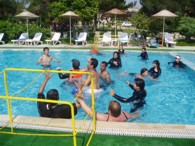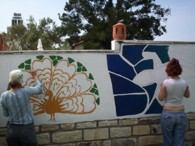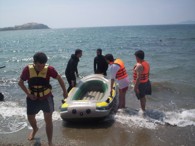 click here for short-term projects in Turkey

click here for volunteer programs in other countries

FOR FULL, STARTED AND PAST PROJECTS, CLICK HERE