Help managing an Environmental Education Centre in Corni di Canzo
Canzo, Lombardia April 5 - June 4, 2016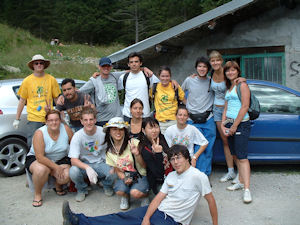 Volunteer project: The project is based in a historical farm estate formerly inhabited and managed by two large families. However, the estate was abandoned in the '50s and it was incorporated into the Reserve of Corni di Canzo. The Forestry and Agriculture Regional Public Service took responsibility of the estate and the main building was restored to preserve its original architectural features. An Environmental Education Centre was established, as well a hostel and a museum of the Natural History of 'Corni di Canzo'. Samples of the fauna, geology, paleontology, and botany of the natural reserve are exhibited in the museum.
Volunteers are needed to help in the daily management of the centre. Their duties will include welcoming guests and providing information, taking care of the vegetable garden, providing support in the educational activities with schools, help with the preparation of food, organising and participation in various events.
Study part: Volunteers will have the opportunity to participate in workshops and trainings on the environment and sustainability. The main subject of the program will be the conservation of forests, soil and biodiversity.
Special requirements: Motivation letter is required. Volunteers should be prepared and willing to walk and live in a mountain environment.
Application deadline: February 25, 2016
Number of participants: 2
Language: English will be the official language in the project.
Accommodation: Volunteers will be hosted in the staff house - a little mountain house next to the Environmental Education Centre guest house, with one bedroom and a self-managed kitchen. The house is about 30 minutes walking from Canzo village.
Location: The regional forest of Corni di Canzo covers approximately 450 ha in the territory of the Larian Triangle, the area between the two branches of Lake Como. The forest extends from the source of Ravella to the 'Corni di Canzo' in the North to the Ridge Sasso Malascarpa - Monte Cornizzolo in the South. The Horns of Canzo refers to the two peaks that tower above the Ravella Valley, North East of Canzo. The Summit of the Western Horn is 1,372 m. The Natural Reserve of Sasso Malascarpa lies within the state's rural territory. In the Reserve, we have important environmental features such as the Sasso Malascarpa, that is enriched with fossils and Conchodon, the ploughed fields and Petrifying springs. Here, numerous studies on the evolution of natural vegetation and bats have been conducted. The Forest is a popular natural attraction and receives around 100,000 visitors per year.
Terminal: Milan International Airports (Milano Malpensa, Milano Linate) / Bergamo International Airport (Orio al Serio) / Lecco railway station
Age range: 18 and over

click here for volunteer programs in other countries

FOR FULL, STARTED AND PAST PROJECTS, CLICK HERE