Organising activities and preparing a party for kindergarten children
Duzce May 29 - June 16, 2015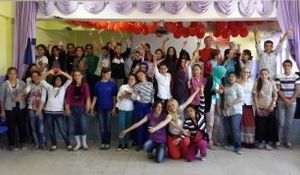 Volunteer project: In this project, we will cooperate with a local women's association which is running a kindergarten for the kids of the working mothers of Duzce city. In order to raise funds, they also organise different activities related with their jobs. Producing hand made food like jam, tomato sauce, powder soup and selling them is a source of income for the association.
We need female volunteers to help prepare the end of year party at the kindergarten, to decorate the walls, play games and sing songs with the kids, welcome the guests, etc. The volunteers will also help the staff to run activities with the kids. If you can play a portable instrument, or teach some games to the kids, or are able to do handicrafts, you are very welcome to join. Also some gardening works will be a part of your work.
Special requirements: This is a female only project.
Arrival and orientation: The project will start in Istanbul with an orientation meeting that all volunteers should attend on the first day of the project. The group will travel together to the project site by a coach on the same evening.
Language: English
Accommodation: In the kindergarten. Sleeping bag and mat are not necessary.
Location: Duzce is a big city in the north-west of Turkey. The project site is in the suburb of the city.
Terminal: Istanbul
Age range: 18 and over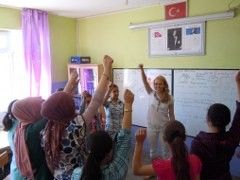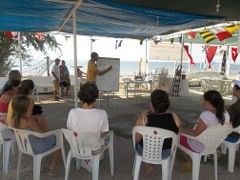 Help children learn conversational English
Can June 12 - June 26, 2015
Volunteer project: Can is a town with 30.000 inhabitants and famous for its ceramic factory. Every year, teaching projects are organized with the students of different schools to practice English. This year, our international volunteers will help the 14-17 age group to improve their conversational skills in English. We are looking for three volunteers who have a good level of English to realize this aim.
The international volunteers will be practicing English with the teenagers. Each volunteer will work with a group of teens in turn, each day and session.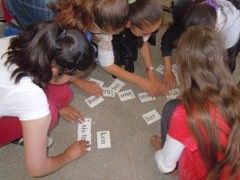 Special requirements: Volunteers must be at least 20 years old with a good level of English and some teaching experience. A motivation letter containing a Skype ID must be sent together with the application form.
Language: English
Accommodation: In a guesthouse. Sleeping bag and mat are not necessary. Food will be supplied at the venue; some dinners may be offered by the families of the students.
Location: Can is in the northwest of Turkey, not far from the antic sites Troy, Assos & Gallipoli battle fields. The nearest city is Canakkale.
Terminal: Istanbul
Age range: 20 and over

click here for middle-term projects in Turkey

click here for volunteer programs in other countries

FOR FULL, STARTED AND PAST PROJECTS, CLICK HERE