Volunteer in Thailand
Teaching English and cultural exchange with villagers in Nakhon Ratchasima
Nakhon Ratchasima February 12 - February 24, 2018
Volunteer project: The project takes place in the rural area of Nakhon Ratchasima province, Northeast of Thailand (4 hours from Bangkok) in the small village called Ban Krok Luk (Ban in Thai means "village"). The main occupation of the locals is farming and most of the villagers are Buddhists. The life in the village revolves around Community Living, Learning by Doing and Cultural Diversity.
Volunteer activities:
• Creative English teaching – The aim is to give local people an opportunity to communicate in another language and get in touch with a different culture through informal English lessons.
• Construction – Volunteers are needed to help set up a new community center. We will build a kitchen, a dormitory and a meeting area for volunteers. There are villagers who will teach and help with the construction. This is a good opportunity for participants to learn the Thai way of building.
• Building relationships with the villagers – Besides the main tasks, important part of the project is the cultural exchange, learning and sharing with the local villagers. The volunteers will be visiting them to chat and do activities together. This will be an enriching experience for all.
• Organic farming – Learning how to produce our own non-chemically treated food.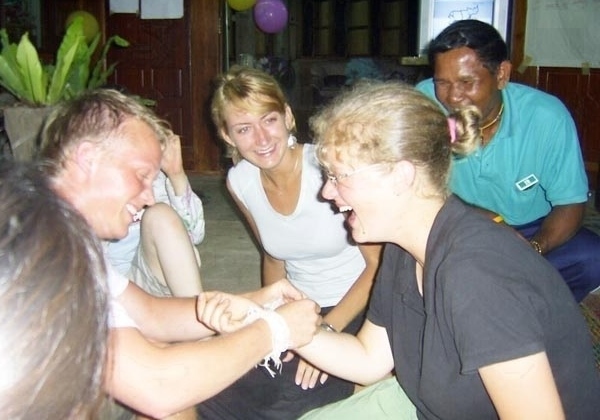 Special requirements: Respect for other cultures, open mind and love for learning and sharing.
Leisure time: In their free time, volunteers can visit local temples and Khao Yai National Park.
Language: English
Accommodation: Volunteers will stay in a Thai style dormitory (natural environment, basic and simple). Please, bring your sleeping bag.
Location: Ban Krok Luk, Dan Khun Thot District, Nakorn Ratchasima Province
Terminal: Suvarnnabhumi International Airport, Donmueng International Airport, Mo Chit Bus Terminal
Age range: 18 and over
Extra fee: 9,500 Thai Baht (about $270 US)
The extra fee is intended to support the local host of the project who does not have sufficient funds. It is due upon arrival.
Long-term projects in Thailand