Language and cultural immersion program in Tanzania
Chamazi, Temeke March 29 - April 25, 2014
Chamazi, Temeke April 26 - May 23, 2014
Volunteer project: This project is organized as a result of the desire expressed by many international volunteers from different countries throughout the years to have the opportunity to discover, learn and share the Tanzanian culture. The project is
quite different from the typical workcamps, since it involves learning, experiencing and participating in various cultural aspects, rather than physical work. The main goal of this project is to establish and understand how people from different cultures communicate with each other and the culture of a society comprises the shared values, understandings, assumptions, and goals that are learned from earlier generations, imposed by the members of the present day society and passed on to the succeeding generations.
The volunteers will participate in the following activities during their stay in Tanzania:
• Intensive Swahili language classes (at least 2 hours every day)
• Classes on traditional African dances, art and music (singing, drumming)
• Batik & Tie-die: Learning how to do tie-die and batik with local people
• Khanga/clothes workshop: A workshop/demonstration on various uses of some African fabrics and their meaning.
• Workshops, Presentations & Debates: Participation in various workshops on African culture and history, making presentation of your own culture to local people.
Study theme: The role of Culture in promoting peace, solidarity and sustainable development
Volunteer profile: Patient and interested in culture and arts; Creative and flexible; Able to work with little supervision and limited resources; Good team player; Quick to learn and to adapt to a new culture and to the local language.
Language: English
Orientation: On arrival, the volunteers will receive an orientation to come to understand the various program policies, share their fears and expectations, participate in team building activities, and get familiar with the culture of the community, etc.
Accommodation: The volunteers will be hosted in the Youth Center located in the community.
Location: Chamazi, Temeke.
Kiswahili is the national language spoken by most Tanzanians. Knowing a few words and phrases of Kiswahili is highly appreciated by the locals. The project language is English. A large number of people in Tanzania are able to conduct a basic conversation in English.
Terminal: Mwalimu Julius Nyerere Airport (Dar es Salaam International Airport)
Age range: 19 and over
Extra fee: Euro 400
The extra fee is intended to support the hosting organization who does not have sufficient funds. It is due upon arrival on the project.
Protection and preservation of the World Heritage Sites of East Africa
Uganda, Kenya, Tanzania July 5 - July 25, 2014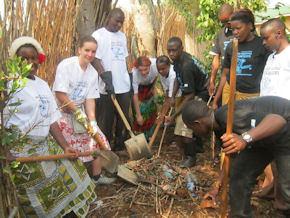 Volunteer project: This East Africa Heritage initiative was conceived in 2012 in the framework of the UNESCO World Heritage Education Program, to mobilize and involve local youth and volunteers in East Africa in heritage preservation and promote regional integration. The project is a joint collaboration with civil society organisations, East African communities and local authorities.
The volunteers will visit different World Heritage Sites in three countries of East Africa: Uganda, Kenya and Tanzania. The group will work on at least two heritage sites in each country. The volunteers will organise and participate in different activities related to promoting, preserving and protecting the sites, strengthening cultural values, awareness raising, educational support, screening of cultural films and tree planting. The project will start in Uganda with a two-day orientation.
Language: English
Accommodation: The volunteers will be placed in host families to better understand and appreciate the local culture. Electricity, running water, telephone or wireless network may not be available at all locations.
Location: UNESCO World Heritage Sites in Uganda, Kenya and Tanzania
Age range: 18 and over
Extra fee: 200 Euro
The extra fee is intended to support the hosting organization who does not have sufficient funds. It is due upon arrival on the project.

click here for volunteer programs in other countries

FOR FULL, STARTED AND PAST PROJECTS, CLICK HERE