Volunteer in Morocco
Arabic language program in Rabat
Rabat January 1 - January 30, 2018
Rabat February 1 - February 28, 2018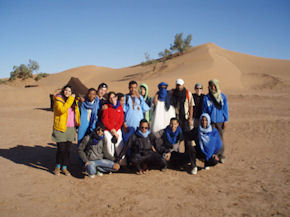 Volunteer project: The aim of the project is to offer people interested in learning Arabic language the opportunity to come and discover Morocco, being hosted in a Moroccan family to better learn from the local culture and also to do some volunteer work in the mornings (as the Arabic classes take place in the afternoons) so as to contribute to the development of the local society.
Arabic is the 5th most commonly spoken native language in the world and an official language of the United Nations, the Arab League, the Organization of Islamic Conference, and the African Union. Knowing another language can promote intercultural understanding.
People interested in this project can choose between learning Darija, the Moroccan dialect, or Fusha, classic Arabic. Participants will receive 10 hours of tuition per week and will be volunteering on community development projects in the morning. The classes are given by teachers who are flexible in managing the courses and are ready to cooperate with the participants so as to fulfill their expectations.
Language: English or French
Accommodation: The participants are accommodated in host families. Staying with a local family is an opportunity for the volunteers to use the Arabic language and also to discover the Moroccan way of life. All the participants are asked to respect the families' environment and local traditions. They are also expected to be sociable and open to building good and fruitful communication with the local people.
Location: Rabat is the capital and fourth largest city of Morocco with an urban population of approximately 580,000. Located along the Atlantic Ocean, Rabat has a mild, temperate climate, shifting from cool in winter to warm days in the summer months
The biggest theatre place is the Theatre Mohammed V in the centre of the town. The city has a few official galleries and an archeological museum.
Rabat provides a cosmopolitan setting in which to improve your French. Although Arabic is the official language in Morocco, Rabat's focus on politics and business means that French is culturally very important here and if you don't know much Arabic, will be the main language that you can use to communicate and learn it at the same time!
Terminal: Rabat airport, Rabat Ville Train Station
Age range: 18 and over
Extra fee: 350 Euro
The extra fee is intended to support the local host of the project who does not have sufficient funds. It is due upon arrival.
Long-term projects in Morocco