Summer camps for children and support for local farmers in Gangwon province
Hwacheon, Gangwon August 3 - August 17, 2014
Volunteer project: This volunteer project is organised in cooperation with a local eco farming village in Hwacheon prefecture. The region has been historically related with the Korean War and North Korea issues (due to its proximity to the border), but it's also a very environmentally clean area. The county wants to promote the region as a memorial place for peace.
Participants will offer assistance in the Youth summer camps for educationally underprivileged youth to improve their capacity to develop and learn. With these camps, we aim to promote global citizenship and help the youth find their strengths and aptitudes through various ideas brought by the international participants. The volunteers will act as mentors for the youth during the camps. The volunteers will also join the farming activities with local farmers. This will contribute to the local empowerment despite the depopulation of the region.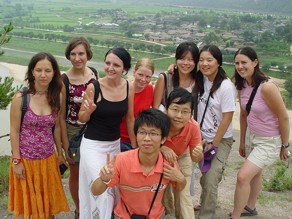 There are about 100 youths who will meet the international volunteers in Hwacheon. The participants will organize three Youth camps for them and prepare activities such as cultural exchange and introducing various careers from each country. During the first week, you will have time to plan, and your creative side is needed here to prepare the activities for the children. Also, the volunteer team will join in outdoor voluntary service with the local youth such as farming and gardening for the community. The volunteers will experience the local culture and the daily life in Korea. They may also join the local summer festival.
Special requirements: Interest in mentoring, youth camps and outdoor activities.
Language: English
Free time: Visiting historic and cultural places such as DMZ; visiting lakes nearby.
Accommodation: In the local guest house
Location: Hwacheon Gun, Gangwon province, 150 km from Seoul
Terminal: Incheon International Airport, Chunchoen train station (2 hours from Seoul by bus)
Age range: 18 - 40 years old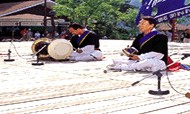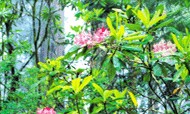 Reviving a village in Busan
Busan August 4 - August 14, 2014
Volunteer project: Busan is the second biggest city and the largest port in Korea, and it's about 400km south of Seoul. Some villages in Busan have been falling into decline because depopulation and number of aging elders are increasing. Therefore, with this project, we will be restoring villages to change the atmosphere, support the local elders and provide better living conditions.
The volunteers will do a mural painting to beautify this pretty and dynamic village. Besides, they will clean homes and community facilities in order to improve the living conditions for physically and economically disadvantaged elderly people. In addition, participants will also prepare various events to get together with the local community, such as food-festival, cultural performance, etc.
Special requirements: Highly motivated for physical work in the local community.
Language: English
Free time: Volunteers will have a chance to visit historic places and enjoy the beaches of Busan during the free time.
Accommodation: In the local community center
Location: Busan
Terminal: Gimhae international airport, Busan train station
Age range: 18 - 40 years old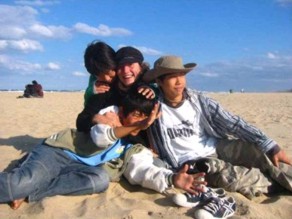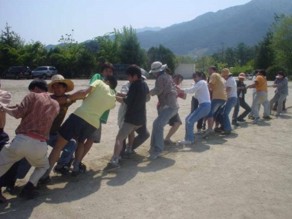 Cadip volunteer project review:
"I did my volunteering in Wando Island in South Korea. During the 2 weeks program, I volunteered with about 14 other volunteers who came from Hong Kong, Taiwan, Russia, Germany, Poland, Mexico and South Korea. Our mandate was to organize activities and teach English to the kids who attend the center (where we stayed). This is my first time doing volunteering abroad so I did not know what to expect but it was an amazing and learning experience. To be able to provide my help, knowledge and my time to kids was very rewarding.
The director and coordination were involved throughout the program. They made sure we were provided with everything we need but they also got involved during the activities which made the kids very happy. The group leaders (2 Korean) were very organized and made a great job. Although they were leaders, they participated in all the housekeeping and never acted as if they were in a 'superior' position.
Overall, the volunteering experience was very memorable and I would do it again anytime."
Anne T.,
Cadip volunteer 2012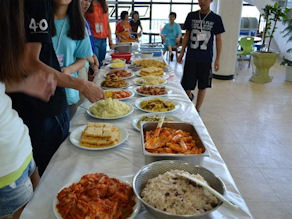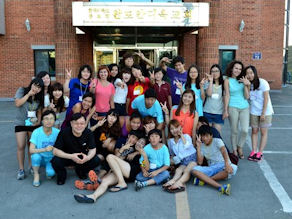 | | |
| --- | --- |
| On the last day – World Wood Festival - each volunteer with the help of 2 kids had to prepare a dish from their respective country | On the last day of the program |

Organising a summer camp for disadvantaged children
Yeongwol, Gangwon August 4 - August 13, 2014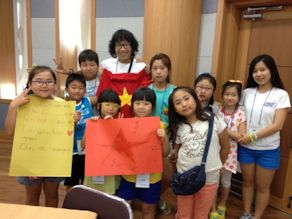 Volunteer project: Yeongwol is the cleanest and most nature-oriented city in Korea. It is about 180 km east of Seoul. This area is surrounded by mountains and a river. Local young people have rare opportunities to experience different cultures from abroad. Korean volunteers are excited to join in the various voluntary service activities together with the international group.
This project is organised in cooperation with the Youth center in Yeongwol. There will be a big summer camp for children (8-15 years old), most of them from disadvantaged background. The international participants will assist with the organisation of the summer camp and will also run a few leisure and recreation sessions.
Together with Korean volunteers, the international participants will organise the camp program for a group of children. Participants will also initiate and organize a few sessions, drawing on their own ideas and taking responsibility for these activities. The project site has various equipment and facilities for outdoor and indoor activities, so any ideas for the youth camp are welcome. If you enjoy interacting with kids, working outside, swimming, you will have a fascinating time with many valuable experiences on this project.
Special requirements: Interest in outdoor activities.
Language: English
Free time: Visiting historic places and exploring caves around the area.
Accommodation: In the youth center
Location: Yeongwol, Gangwon province
Terminal: Incheon International Airport
Age range: 18 - 40 years old

Support artists and prepare an exhibition in Busan
Busan August 6 - August 25, 2014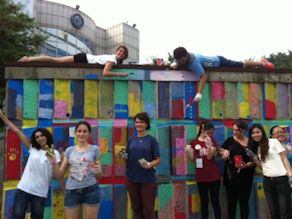 Volunteer project: The volunteer project is organized since 2009 in cooperation with a young artist network in Busan. They are specialized in installation art and are interested in reviving the city through art such as painting, making posters and boards, benches, etc. for non-profit purpose. The works will be exhibited during the local Art Festival.
The project site is quite unique due to its location. It's a small village in the very modern city, but located in the mountain, so it has fresh air and nice natural landscapes.
The volunteers will work with the artists on walls and corner shops in the village in order to renovate and create new designs. They will also assist with the preparation and running of the exhibition of artists' works, so there will be various manual works required. The artists are excited to work with international volunteers.
Special requirements: Interest in art. Volunteers should be highly motivated and physically fit.
Language: English
Free time: Various tourist sites around the island and Busan.
Accommodation: In a guest house
Location: Busan is the second biggest city in Korea, about 400 km south of Seoul.
Terminal: Incheon International Airport, Busan train station (3 hours from Seoul by train)
Age range: 18 - 40 years old

Preserving the traditional culture and heritage in the historic Yangdong Village
Gyeongju, Gyeongsangbuk August 6 - August 16, 2014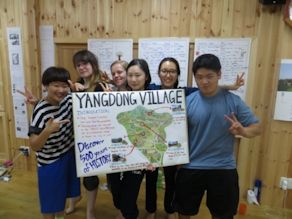 Volunteer project: Yangdong village, founded in the 14th-15th century, is a traditional village from the Joseon Dynasty and is one of the most representative historic clan villages in the Republic of Korea. The village is located in Gangdong-myeon, 16 km northeast of Gyeongju, Gyeongsangbuk-do, along the Hyeongsan River and just south of Mt. Seolchang. Its layout and location reflect the distinctive aristocratic Confucian culture of the early part of the Joseon Dynasty. The village was listed as UNESCO World Heritage site, together with Hahoe Village, in 2010.
The village has put a lot of efforts to preserve its traditions and heritage and promote its value to visitors and general public. However, they are looking for help from international volunteers because most of the village residents are seniors. The project participants will run the World heritage awareness education program for visitors and local children.
The volunteers will prepare and organize the World heritage awareness program based on non-formal education for visitors and local children. They will also renovate and clean some of the village pavilions, part of the World Heritage site.
Special requirements: Participants should be interested in learning about Korean culture and the world heritage. Your experience and ideas are very welcome.
Language: English
Free time: Visiting the nearby Gyeongju city, which is a very famous historic city in Korea.
Accommodation: In the community center in town.
Location: Gyeongju Si, 350 km south-east of Seoul
Terminal: Gyeongju KTX train station (3 hours from Seoul KTX station)
Age range: 18 - 28 years old

click here for mid-term projects in South Korea
to see a short movie from a Korean project with kids, click here

click here for volunteer programs in other countries

FOR FULL, STARTED AND PAST PROJECTS, CLICK HERE