Festival of Mediterranean culture and citizenship
Messina, Sicily October 5 - October 15, 2015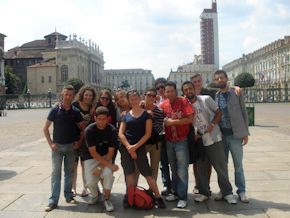 Volunteer project: Sabir is a lingua franca that merchants and sailors from different countries used to speak for their trade in the Mediterranean from the Middle Ages until the end of the 19th century. It is a common language influenced by several idioms and dialects, including Arabic, Occitan, Greek, Catalan, Turkish, Sicilian, Venetian, Genoese. Sabir therefore does not correspond to a specific population nor a territory, but to the primary need to know and to communicate beyond any border.
SabirFest is a cultural event that takes place every year in Messina, Sicily. In the spirit of Sabir language, through literature, politics, music, theater, the festival aims at answering this need for knowing and communicating, and acts as a space for social and cultural citizenship, an open space for reflection, participation, cooperation and entertainment.
The last edition had 60 international guests - artists, politicians, intellectuals from many countries facing the Mediterranean sea, 43 publishing houses and 3500 spectators in 4 days.
This year's edition, October 8th–11th, will cross streets, squares and all the important buildings of Messina old town center, and aims at doubling last year's numbers and success, thanks to the support of local and international volunteers that are the lifeblood of the festival.
SabirFest also hosts a forum of activists working together for the promotion of
Mediterranean citizenship: SabirMaydan. Last year, the first forum included nine dialogues, addressing some of the most topical issues related to the idea of Mediterranean citizenship: human rights; equity and social justice; overall independence of the media and social networks; women's rights; art as an engine for social change; religion and fundamentalism; political activism and urban spaces; tools for cooperation of citizens. Six months later, during the Tunis World Social Forum 2015, the Festival organizing committee developed an intermediate step of SabirMaydan, strengthening partnerships and alliances. A number of specific projects were discussed and outlined: thematic trans-Mediterranean campaigns; trans-Mediterranean channel radio and television; mobility program for activists; institute for activism of the Mediterranean; incubator of micro-initiatives for local development. They will be the focus of the meetings between activists, intellectuals and artists from both shores of the Mediterranean to be held in October.
International volunteers are invited to support the festival but also to contribute to the sharing of ideas, artistic sensitivity and contents. We are looking for:
• Bloggers, journalists, photographers, videomakers who will support the promotion and communication before, during and after SabirFest
• Musicians, dancers, actors, performers, animators who will guide the spectators through the itinerary of SabirFest
• Interpreters, fluent in Italian and one of these languages: French, Arabic, English, Spanish, Turkish.
Special requirements: Strong motivation and ability to communicate in an intercultural environment is necessary. Plus, volunteers should have some experience in one or more of these fields: journalism, photography, video-making, music, dance, theater, social animation. A resume and a motivation letter is required with application.
Language: English
Leisure time: The streets, squares and buildings of Messina will be the set of SabirFest 2015. Every day, shows, debates and concerts will be organized. Volunteers will have a free pass for all these events, even those with ticketed entrance.
Accommodation: Volunteers will be hosted in a house confiscated by the magistrature to the mafia boss Michelangelo Alfano, and entrusted to an NGO in order to implement social and artistic activities there.
Please bring your sleeping bag. The hosting organization will take care of transportation to and from the Festival venues.
Location: Messina, Sicily
Terminal: Messina train station
Age range: 18 and over

click here for volunteer programs in other countries

FOR FULL, STARTED AND PAST PROJECTS, CLICK HERE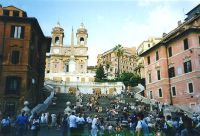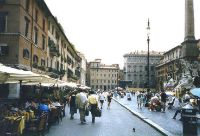 Cadip volunteer project review:

"One month after our volunteer project in San Benedetto Po, Italy, my wife and I are still thinking/feeling the same as during and immediately after the project. It was a great project and a wonderful experience. The other volunteers and the people organizing the project were kind, and friendly and helpful. The work was sometimes challenging so we slept well at night and we got a lot of satisfaction from meeting new people from different countries and hopefully we did our little share to help "make a difference".
We got to see part of the real Italy, not just the touristy part where all you really meet is other tourist. Anyway, it was a great experience and we will cherish many memories from our experience and someday possible meet again some of our new friends.
We hope to do another project in the next year or two. Thank you."
Jerome B.,
Cadip volunteer 2009 and 2011
and Nicole C.,
Cadip volunteer 2011