Creating a Coworking space in Issoire
Issoire, Auvergne December 27, 2015 - January 8, 2016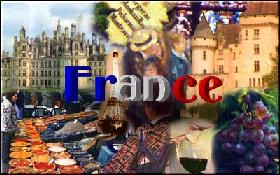 Volunteer project: Volunteers in this project will take part in the creation of a Coworking space in the town of Issoire. The aim is to bring together entrepreneurs and members of associations to share offices in a spirit of cooperation and solidarity.
Volunteers will actively contribute to the design and decoration of the Coworking space which should open in early January. One of your first missions: you will imagine how to improve this place through collective brainstorming and benchmarking other places (the Google headquarters in California for instance and different collaborative spaces in the world). Then it comes to finding good deals to make it pleasant, welcoming and enjoyable: the large table in an open space, plants, everything needs to be installed ! In addition, the Coworking space must be designed and decorated with ecology and solidarity in mind (visits are planned to different re-employment shops). Finally, you will participate in the relocation of equipment that can be reused and upcycled to the new premises. During this project, your ideas will be heard and decisions will be taken together! You will be able to multiply your creativity, your spirit of initiative and DIY potential. These tasks will be achieved in a friendly, intercultural and collective spirit. The pace of work will be random: some days will be intense with different tasks to carry out and other days will be reserved for activities and rest (including January 1st).
Special requirements: Any skills in DIY and decoration will be welcome! You will evolve in an intercultural context with local issues: a degree of maturity and autonomy is expected.
Language: English
Possible free time activities: There's planned time to explore the city, enjoy its magnificent Romanesque abbey, but also hike in the area, visit the Puy-de-Dôme, go to the Sauna and hamam, ski on volcanoes and of course celebrate the New Year!
Accommodation: You will be hosted in an apartment overlooking the town of Issoire and its surroundings. All amenities are available: shower, kitchen, Wi-Fi. Please bring your sleeping bag. The accommodation is 5 minutes walk from the city center.
Location: Issoire is a city of 15,000 inhabitants located 35 km south of Clermont Ferrand, between two Natural Parks (the Auvergne Volcanoes and Livradois Forez). Issoire has many shops and local artisans sell their creations in small boutique shops. You will be surprised by the richness of the Auvergne scenery - it has rightly been classified among the 10 regions in the world to visit in 2016 by Lonely Planet.
Terminal: Issoire
Age range: 18 - 35 years old
Extra fee: 100 Euro
click here for long-term projects in France
click here for volunteer programs in other countries
FOR FULL, STARTED AND PAST PROJECTS, CLICK HERE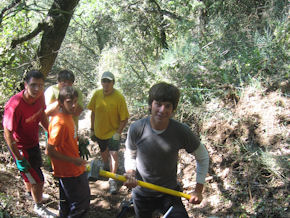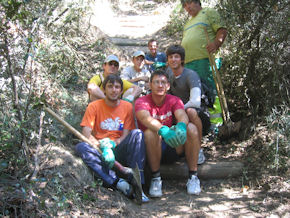 Cadip volunteer project review:
"I wanted to give you some positive feedback on my time in Clansayes, in France. I had one of the best times of my life. The program was exactly as I wanted, and so much more. I had wanted to travel to Europe, but not just backpack through the place. I wanted to get immersed in the culture to get a feel of how life can be over here. In Clansayes, I was totally in touch with the culture. The villagers treated me as a son, a brother, and a friend. The camp leader, Madj, was so diligent with regards to the positivity of our stay there. He was constantly organizing day trips, speaking with the villagers to request bikes for us, and anything else he could do to make our stay more memorable. I loved the people I was staying with. I met people from all over Europe, Russia, and Africa. I met so many people, but not only that, I had time to actually get to know them. I have learned so much from the late night political discussions with 2 serbs and 1 man from Spain. I spoke for hours, and listened for even longer. The mayor of the town was awesome, he took us swimming at his sisters house, he gave us the towns sound system when we requested music, and he pulled some strings to allow all 16 of us have a day of golfing practice. What a guy. I loved the way 2 or 3 of us would cook for everyone else, that allowed for some interesting meals, but also to get to know each other in a deeper way. If you cannot tell by my tone, I am absolutely endorsing this workcamp, I will speak extremely high of your organization and I will tell all of my friends in the states what a wonderful time I had. I believe that I am a better person for having this experience, thank you very much."
Stephen M.,
Cadip volunteer 2007