Volunteer in Belgium


International Rock Festival of Dour
Dour July 13 - July 23, 2016
Volunteer project: Dour Festival is a four-day music festival with 200 artists performing on four stages. More than anything, it is a unique concept which produces an inimitable atmosphere. The line-up is more international than ever, however a large part of the program is dedicated to Belgian artists.
Once again we are expecting to relive Dour Festival's unique atmosphere this year, something which has gained the festival a reputation worldwide. Over the four days, an eclectic crowd live together, letting cultural and social differences slide. For a time, the festival-goers share the same way of life and living together, creating a sort of electricity that is difficult to describe. Perhaps this is due to the diverse line-up – so abundant, coherent, and challenging that you get the impression that everything is possible. The festival crowd is open-minded and passionate for music in the broadest sense of the word.
On the media side of things, the coverage of the festival each year is vast, with more than 1000 journalists turning out. These media professionals are generally from Europe. Last year we noted the presence of journalists from Australia, Canada, Switzerland, Czech Republic, Germany, Estonia, Spain, Greece, Ireland, Luxemburg, Poland, Reunion Island and the USA.
The volunteers will be part of the Croix Verte (the green cross), helping to keep the area clean and tidy. The team will collect and recycle the waste in order to provide nice and safe ground for the festival-goers. Volunteers will also do some manual work: building the stage, carrying materials, work in the festival bar, security... The tasks could be heavy and repetitive at times.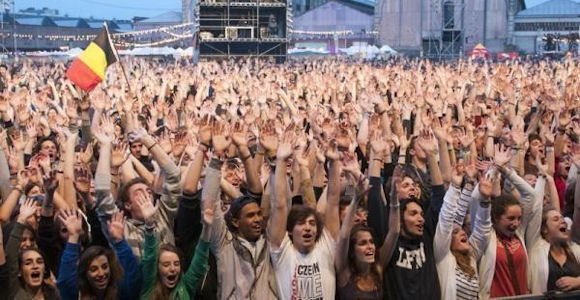 The volunteers in this project will have the chance to discover various sides of the festival organization. Volunteers have to be flexible and enthusiastic. And most important, they must love music!
The volunteers will work about 6 to 8 hours a day. During the free time, volunteers are free to enjoy the concerts (concerts start at noon and end at 5.00 a.m.).
Possible free time activities: The nearby Dour and Mons offer various opportunities for free time activities (museum, Scientific Adventure Park, the Museum of Contemporary Arts, cinema,…). There are several opportunities for sports and outdoor activities, as well as many opportunities offered by the natural environment (La Chaîne des Terrils, le Parc Naturel des Hauts-Pays, l'Insectarium, les sentiers de grande randonnée, etc.).
Language: English or French
Some of the people you'll work with speak English, but it will be good to have some knowledge of French as most of these people are from Dour and its region.
Accommodation: There is a camping reserved for the volunteers. You need a tent, a sleeping bag and a camping mattress.
Location: Dour, Province of Hainaut
Closest airports: Charleroi Bruxelles-Sud, Bruxelles (Zaventem), Lille-Lesquin
Closest train station: Saint-hislain, Mons
Closest TGV stations: Mons, Bruxelles, Lille
Age range: 18 - 35 years old 

Esperanzah Music Festival
Abaye de Floreffes July 31 - August 12, 2016
Volunteer project: Esperanzah! is a festival for dedicated, nomadic and varied music styles and invites you to a world tour with new voices, different sounds and foreign and inventive rhythms. The line up includes about twenty concerts of famous as well as new artists.
Esperanzah! also offers you the magic scope of the Floreffe Abbey, which transforms during three days into a place, where everything is possible. Esperanzah! invites you to dance, to dream, to travel, and to meet other people.
The volunteer's main task will be to keep the area clean and tidy.The team will collect and recycle the waste so as to give the festival-goers a nice and safe ground. Volunteers will also take part in raising the public's awareness about the environment.
Special requirements: A basic level of French is required.
Language: English
Accommodation: You need a tent, a sleeping bag and a camping mattress.
Location: Floreffe Abbey is a former monastery, situated about 11 km southwest of Namur
Closest airports: Brussels Airport, Brussels South Charleroi Airport
Closest train station: Namur
Age range: 18 - 35 years old

Long-term projects in Belgium