A middle term project usually lasts from 3 to 6 months, and a long term project – a year or longer. It's a non-formal international learning experience developing volunteer's sensitivity towards social and cultural differences, self-confidence and problem solving ability.
Middle and long-term volunteering is individual rather than in groups. Often there are 2-3 volunteers working on a certain project. Note that it is not a workcamp environment and if there is a group, it will be smaller and the work and the everyday life is not group-oriented.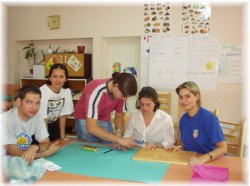 Usually a short training or orientation session is given to the volunteers in the very beging of the project, to help them get acquainted with the project aims, the host organization, the local customs and culture. This may include also a basic training in the local language.
Middle and long term volunteers are immersed in the local culture to a much greater extent allowing them to integrate better with the local community and actually become part of it. Over time volunteers can learn the local language, make friends and better understand the needs and problems of the locals. This enables them to take more active role in the running of the project by implementing their own ideas for accomplishment of better outcomes.
Cost


Participants make their own arrangements for the travel to the project and cover the transportation by themselves. They are always provided with sufficient information about the local means of transport, location and directions to the projects site, meeting point, etc. Few projects provide partial travel support to the participants.


The participation fee for each middle and long term volunteer project is listed in the project description. Some host organizations charge extra fee which is intended to support the actual organizing of the project. The extra fee is also specified in the project presentation.


Food and accommodation are provided for the volunteer for the whole length of the project.
What makes a successful volunteer?
Once you've made a commitment, you will probably want it to be a beneficial and rewarding experience. Your chances of completing successfully your volunteer assignment will be better if you:
- are organized, responsible and well-prepared
- are emotionally stable and have a good sense of humor
- are open-minded, adaptable and ready to adjust to a different culture
- are self-reliant and capable of improvisation when needed
- are patient, flexible and able to work in an international team
- are willing to learn about other cultures and lifestyles
- committed to sharing your knowledge and skills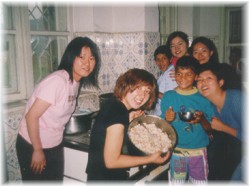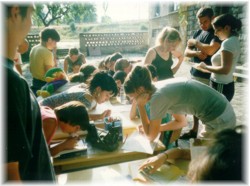 View the available openings for
middle-term volunteering in Peru
middle-term volunteering in Turkey
middle-term volunteering in Greece
middle-term volunteering in Ecuador
middle-term volunteering in Kenya
middle-term volunteering in Togo
long-term volunteering in Mexico
long-term volunteering in Vietnam
long-term volunteering in Belgium
long-term volunteering in Nepal
long-term volunteering in Morocco
long-term volunteering in Uganda
long-term volunteering in India