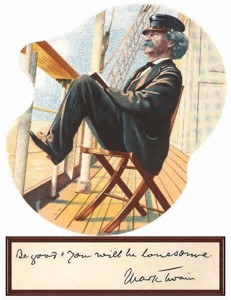 Famous Thoughts

by Mark Twain


Man is the religious animal. He is the only religious animal. He is the only animal that has the True Religion –- several of them. He is the only animal that loves his neighbor as himself and cuts his throat, if his theology isn't straight. He has made a graveyard of the globe in trying his honest best to smooth his brother's path to happiness and heaven....
The holy passion of friendship is of so sweet and steady and loyal and enduring a nature that it will last through a whole lifetime, if not asked to lend money....
No public interest is anything other or nobler than a massed accumulation of private interests....
Wherefore being all of one mind, we do highly resolve that government of the grafted by the grafter for the grafter shall not perish from the earth....
It were not best that we should all think alike; it is difference of opinion that makes horse races....
The political and commercial morals of the United States are not merely food for laughter, they are an entire banquet....
Make it a point to do something every day that you don't want to do. This is the golden rule for acquiring the habit of doing your duty without pain....
Time and tide wait for no man. A pompous and self-satisfied proverb, and was true for a billion years; but in our day of electric wires and water-ballast we turn it around: Man waits not for time nor tide....
If I were required to guess off-hand, and without collusion with higher minds, what is the bottom cause of the amazing material and intellectual advancement of the last fifty years, I should guess that it was the modern-born and previously non-existent disposition on the part of men to believe that a new idea can have value....
Truth is mighty and will prevail. There is nothing the matter with this, except that it ain't so....
Adam and Eve had many advantages, but the principal one was, that they escaped teething....
Love seems the swiftest, but it is the slowest of all growths. No man or woman really knows what perfect love is until they have been married a quarter of a century....
There are many scapegoats for our sins, but the most popular one is Providence....
To arrive at a just estimate of a renowned man's character one must judge it by the standards of his time, not ours....
It is by the goodness of God that in our country we have those three unspeakably precious things: freedom of speech, freedom of conscience, and the prudence never to practice either of them....
All schools, all colleges, have two great functions: to confer, and to conceal, valuable knowledge. The theological knowledge which they conceal cannot justly be regarded as less valuable than that which they reveal. That is, when a man is buying a basket of strawberries it can profit him to know that the bottom half of it is rotten.1908, notebook...
There are basically two types of people. People who accomplish things, and people who claim to have accomplished things. The first group is less crowded....
The government is merely a servant -- merely a temporary servant; it cannot be its prerogative to determine what is right and what is wrong, and decide who is a patriot and who isn't. Its function is to obey orders, not originate them....
Peace by persuasion has a pleasant sound, but I think we should not be able to work it. We should have to tame the human race first, and history seems to show that that cannot be done....
Each man must for himself alone decide what is right and what is wrong, which course is patriotic and which isn't. You cannot shirk this and be a man. To decide against your conviction is to be an unqualified and excusable traitor, both to yourself and to your country, let me label you as they may....
When I was a boy of fourteen, my father was so ignorant I could hardly stand to have the old man around. But when I got to be twenty-one, I was astonished at how much the old man had learned in seven years....
To cease smoking is the easiest thing I ever did; I ought to know because I've done it a thousand times....
A thing long expected takes the form of the unexpected when at last it comes....
There was never yet an uninteresting life. Such a thing is an impossibility. Inside of the dullest exterior there is a drama, a comedy and a tragedy....
Climate is what we expect, weather is what we get....
Plan for the Improvement of English Spelling For example, in Year 1 that useless letter "c" would be dropped to be replased either by "k" or "s", and likewise "x" would no longer be part of the alphabet. The only kase in which "c" would be retained would be the "ch" formation, which will be dealt with later. Year 2 might reform "w" spelling, so that "which" and "one" would take the same konsonant, wile Year 3 might well abolish "y" replasing it with "i" and Iear 4 might fiks the "g/j" anomali wonse and for all....
When in doubt, tell the truth....
In religion and politics people's beliefs and convictions are in almost every case gotten at second-hand, and without examination, from authorities who have not themselves examined the questions at issue but have taken them at second-hand from other non-examiners, whose opinions about them were not worth a brass farthing. Autobiography, 1959...
The secret source of humour itself is not joy, but sorrow. There is no humour in heaven....
There are some books that refuse to be written. They stand their ground year after year and will not be persuaded. It isn't because the book is not there and worth being written -- it is only because the right form of the story does not present itself. There is only one right form for a story and if you fail to find that form the story will not tell itself....
Sanity and happiness are an impossible combination....
Good friends, good books and a sleepy conscience: this is the ideal life....
Happiness is a Swedish sunset -- it is there for all, but most of us look the other way and lose it....
Travel has no longer any charm for me. I have seen all the foreign countries I want to except heaven & hell & I have only a vague curiosity about one of those....
After all these years, I see that I was mistaken about Eve in the beginning; it is better to live outside the Garden with her than inside it without her. Adam, in Adam's Diary...
The radical of one century is the conservative of the next. The radical invents the views. When he has worn them out, the conservative adopts them....
It is better to keep your mouth closed and let people think you are a fool than to open it and remove all doubt....
I did not attend his funeral; but I wrote a nice letter saying I approved of it....
Always acknowledge a fault. This will throw those in authority off their guard and give you an opportunity to commit more....
The perfection of wisdom, and the end of true philosophy is to proportion our wants to our possessions, our ambitions to our capacities, we will then be a happy and a virtuous people....
What work I have done I have done because it has been play. If it had been work I shouldn't have done it. Who was it who said, "Blessed is the man who has found his work"? Whoever it was he had the right idea in his mind. Mark you, he says his work--not somebody else's work. The work that is really a man's own work is play and not work at all. Cursed is the man who has found some other man's work and cannot lose it. When we talk about the great workers of the world we really...
Many public-school children seem to know only two dates--1492 and 4th of July; and as a rule they don't know what happened on either occasion....
Twenty years from now you will be more disappointed by the things that you didn't do than by the ones you did do. So throw off the bowlines. Sail away from the safe harbor. Catch the trade winds in your sails. Explore. Dream. Discover....
We adore titles and heredities in our hearts and ridicule them with our mouths. This is our democratic privilege....
I notice that you use plain, simple language, short words and brief sentences. That is the way to write English - it is the modern way and the best way. Stick to it; don't let fluff and flowers and verbosity creep in. When you catch an adjective, kill it. No, I don't mean utterly, but kill most of them - then the rest will be valuable. They weaken when they are close together. They give strength when they are wide apart. An adjective habit, or a wordy, diffuse, flowery habit, once fastened upon a person, is as hard to get...
I am opposed to millionaires, but it would be dangerous to offer me the position....
Let us so live that when we come to die even the undertaker will be sorry....
The inventor of their heaven empties into it all the nations of the earth, in one common jumble. All are on an equality absolute, no one of them ranking another; they have to be "brothers"; they have to mix together, pray together, harp together, hosannah together--whites, niggers, Jews, everybody--there's no distinction. Here in the earth all nations hate each other, and every one of them hates the Jew. Yet every pious person adores that heaven and wants to get into it. He really does. And when he is in a holy rapture he thinks he thinks that if he were...
A historian who would convey the truth must lie. Often he must enlarge the truth by diameters, otherwise his reader would not be able to see it....
Go to Heaven for the climate, Hell for the company....
Let us swear while we may, for in Heaven it will not be allowed....
To get the right word in the right place is a rare achievement. To condense the diffused light of a page of thought into the luminous flash of a single sentence, is worthy to rank as a prize composition just by itself...Anybody can have ideas--the difficulty is to express them without squandering a quire of paper on an idea that ought to be reduced to one glittering paragraph....
Whoever is happy will make others happy, too....
Love seems the swiftest, but it is the slowest of all growths. No man or woman really knows what perfect love is until they have been married a quarter of a century....
Always do right--this will gratify some and astonish the rest. message to Young People's Society, Greenpoint Presbyterian Church, Brooklyn, New York, February 16, 1901...
If man could be crossed with the cat, it would improve man but deteriorate the cat....
Always do right. This will gratify some and astonish the rest....